forwords
home - bulletins - acknowledgements - what else? - zeroquality
---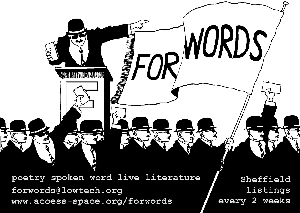 forwords
forwords is a bi-weekly email bulletin, offering a digest of information about poetry and spoken word events, workshops, and other literary events in Sheffield and the surrounding area (including Doncaster, Barnsley, Huddersfield, and Rotherham).
PLEASE NOTE, FORWORDS CEASED PRODUCTION IN OCTOBER 2008. An archive of past bulletins is available for viewing on the bulletins page.
If you would like to help publicise forwords, please click on the image on the right to download some fliers ready for printing.
The latest bulletin is available in PDF format from the bulletins page
subscription
If you would like to subscribe to the list, either fill in the form below or send an email to forwords@lowtech.org with 'subscribe' in the subject line. forwords will not pass addresses on to third parties, and because information is posted only every two weeks, it won't clutter up your mail box.
listings
If you wish to publicise an event, please send details to forwords@lowtech.org, including:
the event name
the date, time and location
the entrance charge (if any)
brief description of the event
contact details, if necessary
If a performance event, please indicate whether there will be guest performers, an open spot, or both. Regular classes and writing or discussion groups won't be included in the 'listings' section. However, there is a 'news' section, where such groups can receive occasional publicity.
home - bulletins - acknowledgements - what else? - zeroquality