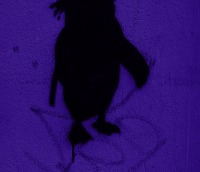 Antics Radio Show
The last Antics Radio Show was in October 2008. Some material from the show (poems and a few interviews) is available on the Spoken Word Antics Sound Archive. Individual shows can be made available for limited periods of time on request—write to Robin using the email link in the menu bar on the right.
Listen LIVE on community radio station Sheffield Live, on 93.2FM within Sheffield or via the internet from anywhere else; download extracts from the shows from the sound archive, or listen to podcasts of previous shows. (N.B. podcasts are usually only available for a month after the original broadcast; however, if you would particularly like to listen to an older show get in touch and it may be possible to make this briefly available to you.)
6-7pm, 28 July 2008
Live guest appearances from storyteller Tim Ralphs, poet Sarah Thomasin, and Andy Hirst with part II of his

Frome Primer

sequence.
6-7pm, Monday 23 June 2008
Featuring poetry from and an interview with Rosie Garner and Catherine Clarke; members of Sheffield Young Writers reading from their work'; extracts from Richard Rathwell's

Ultraeye

, and more…
6-7pm, Monday 2 June 2008
May's show spills over into June, with a foray into the non-fictional writing of Brian Kennedy and Carolyn Waudby. Brian, a Canadian living in California, reads an excerpt from

Growing Up Hockey

, a book about his country's favourite past-time that also draws on the travails and insecurities of childhood. Carolyn Waudby takes us to Cuba and Florence with her travel writing and poetry, plus bus poems from Rosie Garner and Rachel Pantechnicon on Lady of Shallot Day.
6-7pm, Monday 28 April 2008
Chris Jones reads his river poems and 'Miniature', and Matt Clegg reads 'Edgelands', with sound effects from Brian Lewis.
6-7pm, Monday 24 March 2008
Tina McKevitt presents a timely performance of 'The Last Time I Saw Joe', a dramatic monologue set during Ireland's Easter Rising (1916) about passion as a form of resistance even in the face of death. (Find out about the Easter Rising on Wikipedia.) Matt Black and Adam White return to the studio with

Careless

, a sequence of six short poems, accompanied by guitar, exploring joys, feelings and questions prompted by the early stages of love. Poems by James Nash, Antics guest in February, and an interview in which he talks about teaching and writing, his collaboration with Char March, and telling people's stories.
6-7pm, Monday 25 February 2008
Allegra Holbrook talks about

Body Image

, a new short story collection she is assembling on the theme of 'the body', with readings from herself and Corinne Salisbury. Rob Hindle will be reading poems drawing on his experience of Spain in the early 1990s, and we will also be hearing a story from January's guest at Antics, Zoe Lambert, as well an interview recorded with her when she visited Sheffield. Poetic interludes (to cover over the squeaks and creaks as we rearrange ourselves in the studio) from James Nash, who will be featuring in March's show.
6-7pm, Monday 28 January 2008
Listen in for poems by Rumi, the 13th-century Persian mystic poet, some North Eastern dialect poems by Fred Reed,, and a session recorded with our December guests, Trev Teasdel and Keith Armstrong, in which they read some of their work and talk about the city as a place of inspiration, grassroots writing, and declaiming poetry through a megaphone on Northumbrian beaches.
6-7pm, Monday 24 December 2007
A Sarah Murphy extravaganza! Excerpts from

When Bill Danced the War

(with Keith Jafrate on sax and Sean Blezard on electronics), her story 'The Night the Thirty Ought Six', and an interview recorded when she visited Sheffield in November 2007, in which she discusses Bill – both her father and the poema – growing up with Choctaw heritage, and her pacey, unpunctuated style of writing.

The programme finishes with a story by Steve Scott about a blind date gone wrong:

On the Wonk

.
6-7pm, Monday 26 November 2007
Live in the studio there will be fiction from Linda Lee Welch (author of

The Leader of the Swans

and

The Artist of Eikando

), Andy Hirst reading from his

Frome Primer

(launched by Longbarrow on 22 Nov), and more poems from Michael Greavy, one of the first guests on the show back in Sept 2006. Some of Michael's poems are available to listen to on the Antics sound archive.

I will also be playing something from Sarah Murphy (guest at November's Antics), who is launching her CD collaboration with Keith Jafrate and Shaun Blezard,

When Bill Danced the War

, on a tour that takes in Sheffield on 30 Nov. An interview I recorded with her and more of her work will feature in next month's show.
9-10pm, Thursday 27 September 2007

9-10pm, Thursday 23 August 2007
An easy-going show for the summer – no live guests, just a stack of recordings, including pieces by Joolz, Matt Black ('Compost Heaven'), and Eleanor Rees. You'll hear about Project Adorno's encounter with Germaine Greer, poems by Chris Jones (from the launch of his collection

The Safe House

last month), and an extract from Roy Blackman's folk opera about the miners strike,

A Time to Be Proud of

, performed by the Rotherham Socialist Choir in 2004.
9-10pm, Thursday 26 July 2007
Tom Stafford reads '1968', the true story of Abbie Hoffman, how he tried to levitate the Pentagon 300ft in the air and was accused of 'symbolically urinating' on (or at) its walls. Tom also reads from the work of Israeli poet Yehuda Amichai, and Tina McKevitt sings 'On Raglan Road' by Patrick Kavanagh. Eleanor Rees reads poems from her new collection,

Andraste's Hair

(Salt, 2007), and talks about her use of 'internal rhyme' in free verse, and Liverpool as a city on the edge.
1-2pm, Monday 16 July 2007

A one-off show for Sheffield Live's week on FM, this will be an open mic show, with a few recordings, and a chance to text in your own 10-or-less. If you'd like to join us in the studio with a poem, story, or other piece of spoken art, your own or somebody else's, send us an email, or just turn up at Sheffield Live for 12.45pm on the day. The show will be broadcast on 87.7FM within a five-mile radius of Sheffield centre, and on the internet as usual.

9-10pm, Thursday 14 June 2007
June's show kicks off with Project Adorno's 'Davros: Leader of the Daleks'. Live guests in the studio are Matt Black, who comes armed with love poems and a piece constructed entirely out of the menu from a take away on London Road, and Ruth Grimsley, who explains the rhythms that bind the universe together, from the movement of the gut to Matt's hemiolas. We also read out the first batch of 10-or-less (a new junk poetry genre) written…ever.
The show ends with a session recorded with Anna Robinson. She reads poems filled with the voices of a Waterloo housing estate, whose inhabitants seem to live as much under the stars as under their rooves, and as much with past generations as with the new buildings being thrown up around them. Anna talks about benzoin and chiropody, Octavia Hill (a pioneer of social housing management), mythopoesis in working class communities, and the millenium obsession with time.
9-10pm, Thursday 31 May 2007

A special repeat of April's show, which was beset by technical problems, featuring Margot Douaihy, Matt Clegg, Simon Heywood, and Jeff Cottrill. See 5 April for details.

9-10pm, Thursday 3 May 2007
Live guests Jim Caruth and Philip Howarth, with recordings from Roy Blackman, Project Adorno, and Jonathan Woolley's

The Clutches of Harrier Jasmin.

9-10pm, Thursday 5 April 2007
In 'Trig Points' Matt Clegg, accompanied by Simon Heywood's shimmering guitar sounds, captures the excitement of an encounter with nature. Through a series of haiku he maps out the Lake District as a symbolic landscape where everything—from cars to stars, a campsite tap, chimney smoke merging / into the slow lapse of light—seems ready to burst into meaning. Jeff Cottrill, guest at March's Antics, performs several spoken word pieces (including 'How to Write and Perform a Slam Poem' and the entirely reflexive 'Review of this Piece') and talks about his work, the Perpetual Motion Roadtour, and why his last trip outside Canada ended in 'disaster and humiliation'. Plus another chance to hear Margot Douaihy's poems and her Antics interview, which we weren't able to fit into last month's show.
9-10pm, Thursday 8 March 2007
An all female line-up to mark International Women's Day. Margot Douaihy, guest poet at February's Antics, reads a selection of her poems and discusses her use of mythology for exploring human relations and finding balance in an uprooted world, her poetry-radio project on Ingrid Betancourt, the Colombian senator kidnapped by the FARC in 2002, and the potential of poetry as an 'agent of change'. Live guests will be the poets Nell Farrell (read some of her poems in Brando's Hat), Corinne Salisbury, and Doreen Bottomley. Tracks from Chanje Kunda.
9-10pm, Thursday 8 February 2007
Featuring: Liz Barrett and tracks from

Bat Detector

, her recent poetry-music collaboration with Robin Ireland; Tom Stafford reads one of his historical vignettes about moments of revolution; Dusan Radunovic and Sanja Bahun give a bilingual performance of Serbian poet Vasko Popa in Serbian and English.